What is an Abundance Mindset?
An abundance mindset also referred to as an abundant mentality is the belief that there are more than enough riches and good fortune to go around. Therefore, there is enough for everyone. The originator of this term was Stephen Covey in his book The 7 Habits of Highly Effective People. In the book, Stephen compares having a scarcity mindset to an abundance mindset.
A scarcity mindset is an opposite view of the world. This is the belief that there are limited resources, goods, riches, etc. This point of view typically results in jealousy, selfishness, and overall negativity. If you believe that there is not enough to go around, you will want everything for yourself. You will be less likely to share with others and spread positivity. You will also be envious when others receive good fortune because you think it can no longer happen to you since it happened to them.
With an abundance mindset, you will not only be happy when others achieve success, but you will do what you can to help them. There is no 1st place, and if there is, many, many people can reach that 1st place prize. There will always be more than enough to go around.
Abundance Mindset Examples
Personal Life
Let's say that your neighbor just renovated their house. This is something that you have been wanting to do for years, but it just hasn't been in the cards as of yet. Money has been tight, unknown expenses came up, etc., etc. If you have a scarcity mindset, you will be jealous of your neighbor for being able to do this. You may ask yourself:
Why are they able to afford these renovations and I am not?
Why do they deserve to live in a nicer home than me?
I deserve a better home.
A scarcity mindset leads to comparing because you are always scrambling to get more than the other person. Furthermore, just because your neighbor was able to afford these renovations before you, or currently has a nicer home than you do, does not mean that you will not be able to do the same. It does not mean that you won't be able to surpass them in the future, either. But when you have this scarcity mindset and ask yourself those types of questions, you will believe it to be true that they took this opportunity away from you.
Work
Let's say you applied for an internal promotion at the workplace and were passed up on the opportunity. Maybe they went with another internal candidate, or maybe they even brought in an outside hire. Let's say in this instance though that the candidate they chose was slightly more qualified. Deep down you know that their decision made sense, it's just upsetting since it wasn't you. And obviously, you have the right to be upset. But a scarcity mindset takes it a step further.
You will be angry at the person who got hired, even though they did nothing wrong. You will probably even be angry at the hiring manager, even though they made a good decision. Your anger will come from a place of fear. Fear that there will never be other opportunities for a promotion and that you will never get promoted.
With an abundance mindset, even though you will be rightfully upset that you didn't get the promotion, you won't let it consume you. You know that there will be other opportunities and that your time will come. You will continue to put your head down, work hard, and do whatever is necessary to reach your ultimate goal of getting promoted. Just because somebody else got promoted this time, doesn't mean that you won't get promoted next time.
Benefits of Having an Abundance Mindset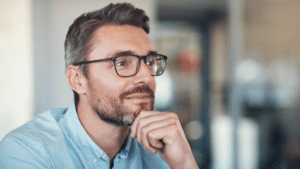 There are many benefits to having an abundance mindset, including:
A more positive outlook on the world
A decreased sense of fear in life
No more jealousy towards other success and/or happiness
More determination
Less of a desire to give up when things get difficult
Gratitude for what you already have
Increase in discipline
Increase in energy
A sense of clarity
How to Develop an Abundance Mindset
If you are typically a negative person and have had a scarcity mindset for most of your life, shifting to an abundance mindset will be no easy task. I can say this from experience! However, 2 things that I found can be really helpful are:
TRULY BELIEVE that you are a positive person who thinks positive thoughts
Affirmations and Acting "As If"
Affirmations are personal words you say to yourself, typically every morning, that help you to get through your day and improve it. These are different for everyone, as they are personal and specific to whatever it may be that you are struggling with at that moment in your life. For example, if you are feeling the dreaded Imposter's syndrome at work, your affirmation might be "I am a hard worker and great at my job as a [job title]." You can both say your affirmations out loud and write them down.
Here are some affirmations you can say to yourself to help you gain an abundance mindset:
I will get everything that I need to be successful, happy, and healthy
There is plenty out there in the world for me
I am in the driver's seat of my own life
I am a positive and powerful person who strives to inspire others through my actions
There will always be more so I am grateful for what I currently have
Neuroscience-based Life Coaching: A Tool for Cultivating an Abundance Mindset
In recent years, the field of neuroscience has made significant strides in understanding the intricacies of the human brain and how it shapes our thoughts, behaviors, and beliefs. One of the fascinating discoveries is the brain's plasticity, its ability to change and adapt throughout a person's life. This adaptability is at the core of neuroscience-based life coaching.
Neuroscience-based life coaching taps into the brain's potential to rewire itself, offering tools and techniques to shift from a scarcity to an abundance mindset. Here's how it can be an effective solution:
Understanding Brain Patterns: Our beliefs, whether scarcity or abundance-oriented, are often rooted in neural pathways formed over years of experiences and conditioning. A neuroscience-based life coach can help individuals recognize these patterns and understand their origins.
Reframing Negative Thoughts: Using techniques grounded in neuroscience, life coaches can guide individuals in challenging and reframing limiting beliefs. By understanding how the brain processes information and emotions, one can learn to redirect negative thoughts towards more positive, abundance-focused ones.
Strengthening Positive Neural Pathways: Just as a muscle grows stronger with exercise, neural pathways can be strengthened with repeated use. By consistently practicing abundance-focused thoughts and behaviors, these pathways become more dominant, making it easier to maintain an abundance mindset over time.
Emotional Regulation: Neuroscience-based techniques can teach individuals how to regulate their emotions, reducing feelings of jealousy, fear, and anxiety associated with a scarcity mindset. By understanding the brain's emotional centers and how they interact, one can learn to respond rather than react to challenging situations.
Visualization Techniques: The brain often struggles to differentiate between real and imagined events. Neuroscience-based life coaching employs visualization techniques, allowing individuals to "experience" the benefits of an abundance mindset, further solidifying the belief in its possibilities.
In conclusion, neuroscience-based life coaching offers a scientifically grounded approach to cultivating an abundance mindset. By understanding and harnessing the brain's potential, individuals can effectively shift their beliefs, fostering a more positive, abundant outlook on life.
What other benefits are there to having an abundance mindset or mentality? Visit my website or book your complimentary phone consultation to learn more.
---
#abundancemindset #stephencovey #scarcityvsabundance #neurosciencebasedcoaching #positiveoutlook #benefitsofabundance #cultivatingpositivity #shiftingbeliefs