In a world that often encourages us to hide our flaws and present only our best selves, embracing vulnerability can feel counterintuitive. However, research and personal experiences have shown that vulnerability is not a weakness but a powerful tool that can strengthen relationships. In romantic partnerships, vulnerability means showing our imperfections, fears, and insecurities to our partners, allowing them to see and understand us truly. Sharing our vulnerabilities creates a safe space for emotional intimacy and connection to flourish. This article explores embracing vulnerability in relationships and how it can lead to greater trust, deeper understanding, and stronger bonds. So, keep reading if you're ready to discover the transformative power of vulnerability and unlock the potential for a more fulfilling and authentic relationship.
Understanding Vulnerability in Relationships
Vulnerability in relationships opens us up to our partners and reveals our true selves without fear of judgment or rejection. It involves sharing our deepest emotions, fears, and insecurities, allowing our partners to see us in our most authentic form. Many people mistakenly believe that vulnerability is a sign of weakness, but it takes tremendous courage and strength to be vulnerable with someone else.
When we embrace vulnerability in our relationships, we create an environment of trust and acceptance. By showing our partners that we are willing to be open and honest, we invite them to do the same. This mutual vulnerability forms the foundation of a solid and intimate connection.
The Importance of Vulnerability in Building Trust
Trust is essential in any relationship, and vulnerability plays a crucial role in building and maintaining trust. When we are vulnerable with our partners, we demonstrate that we trust them enough to share our innermost thoughts and feelings. This act of faith fosters a sense of security and safety within the relationship.
In addition, the vulnerability allows our partners to see us as human beings with flaws and imperfections. It breaks down the facade of perfection and creates a more realistic and relatable image of who we are. This transparency builds trust because it shows that we are not hiding anything and are willing to be authentic and genuine.
How Vulnerability Can Deepen Emotional Connections
Emotional connections are the lifeblood of a healthy and fulfilling relationship. When we embrace vulnerability, we open the door to deepening these emotional connections.
By sharing our vulnerabilities, we allow our partners to understand us deeper. When they see our fears and insecurities, they can empathize with us and provide support. This level of emotional intimacy creates a bond that goes beyond surface-level interactions.
Furthermore, the vulnerability allows for more meaningful conversations and discussions. We can address any issues or concerns directly when we are open and honest about our emotions. This open communication strengthens the emotional connection and fosters understanding and empathy.
Overcoming Fear and Shame to Embrace Vulnerability
Fear and shame are common barriers to embracing vulnerability in relationships. We may fear rejection or judgment from our partners if we reveal our flaws and insecurities. Shame, on the other hand, stems from a belief that our vulnerabilities make us unworthy of love and acceptance.
To overcome these barriers, it is essential to recognize that vulnerability is not a sign of weakness but rather a sign of strength. It takes courage to be vulnerable; by doing so, we create an opportunity for growth and connection. Additionally, it is crucial to choose a supportive and understanding partner who will accept and embrace our vulnerabilities.
Honesty and Open Communication in Vulnerable Moments
Honesty and open communication are essential components of embracing vulnerability in relationships. When we are vulnerable, we must communicate our needs, fears, and desires openly and honestly.
Holding back or sugarcoating our emotions during vulnerable moments can be tempting. However, this only hinders the potential for growth and connection. Communicating openly and honestly allows our partners to understand us better and provide the support we need.
It is also essential to actively listen to our partners during vulnerable moments. By practicing active listening, we show that we value their emotions and experiences. This creates a safe space for both partners to be susceptible and fosters a more profound sense of understanding and connection.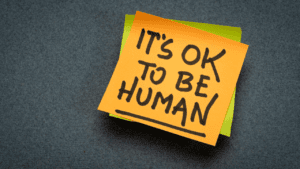 Sharing Your Flaws to Foster Empathy and Understanding
Sharing our flaws and insecurities with our partners can be intimidating, but it is essential to embracing vulnerability. We invite empathy and understanding into the relationship when we share our vulnerabilities.
By revealing our flaws, we show our partners that we are not perfect. This allows them to relate to us deeper and understand that they are not alone in their imperfections. This shared vulnerability fosters a sense of empathy and compassion, creating a stronger bond between partners.
Strengthening Your Relationship Through Vulnerability
Embracing vulnerability can significantly strengthen your relationship. When both partners are open and honest about their vulnerabilities, it creates a safe and supportive environment for growth and connection.
Being vulnerable allows your partner to see and understand you truly. This deep level of understanding leads to greater intimacy and emotional connection. It also enables you to work through challenges and conflicts more effectively, as you can address underlying emotions and fears openly.
Furthermore, vulnerability encourages personal growth and self-reflection. When we are vulnerable, we confront our fears and insecurities head-on, allowing us to grow and evolve. This personal growth has a positive ripple effect on the relationship as both partners continue to learn and develop together.
The Role of Vulnerability in Conflict Resolution
Conflict is inevitable in any relationship, but vulnerability can be a powerful tool in resolving disputes. We open ourselves to understanding and empathy when we are vulnerable during conflicts.
By expressing our emotions and needs openly, we allow our partners to empathize and understand our perspective. This understanding paves the way for compromise and finding solutions that satisfy both partners.
In addition, vulnerability during conflicts allows for deeper conversations that address underlying issues. By openly discussing fears and insecurities, we can uncover the root causes of conflicts and work towards resolving them together.
Nurturing Vulnerability in Long-Term Relationships
Nurturing vulnerability is essential in long-term relationships to ensure continued growth and connection. As relationships evolve, it is crucial to maintain a safe space for vulnerability.
Regular check-ins and open conversations about emotions and vulnerabilities can help keep the lines of communication open. It is also paramount to actively listen and validate each other's vulnerabilities, creating an environment of acceptance and support.
Additionally, practicing gratitude and appreciation for each other's vulnerabilities can strengthen the bond between partners. By acknowledging and appreciating the courage it takes to be vulnerable, you reinforce the importance of exposure in the relationship.
Embracing Vulnerability for a Stronger, More Intimate Relationship
Embracing vulnerability in relationships is not easy, but the rewards are immeasurable. By allowing ourselves to be indeed seen and understood by our partners, we create a foundation of trust and intimacy.
Vulnerability deepens emotional connections, fosters empathy, and understanding, and strengthens the bond between partners. It allows for open and honest communication, leading to effective conflict resolution and personal growth.
So, if you're ready to take the leap and embrace vulnerability, remember that it is a journey. Start by taking small steps, and choose a partner to support and encourage your exposure. You can create a relationship built on authenticity, trust, and love.
---
vulnerability #imperfections #relationshipstrength #strengtheningrelationships #relationshipgoals #relationshipbuilding #vulnerabilityinrelationships #imperfectionsinlove #lovingimperfections #relationshipgrowth #relationshipimperfections #vulnerabilityisstrength #relationshipstrengths #imperfectlove #relationshipvulnerability #buildingstrongrelationships #embracingimperfections #relationshipbonding #imperfectlyperfect #relationshipsupport #vulnerabilityinlove